Although I currently live in Korea, I come from England originally, a country renowned for rainfall, measly summers, and grey, cold winters. I can't say I've missed the English weather during my time in Korea. Up until winter. My memories of the English winter are that of cold, dark mornings spent waiting for buses in the rain, a constant feeling of damp, and battling the elements bundled up in hats, scarves and gloves from roughly the middle of October to the end of February, if not longer. Having experienced nearly two months of Korean winter now, I can safely say that I believe England is mild. Though we're still apparently not even in the deepest, coldest part of winter, I have experienced the coldest days and nights of my life living in Korea. Walking to school at 9am might incur a meeting with -7 degrees Celsius, and the middle of the day isn't much warmer. I'm told we'll drop to at least -15 degrees Celsius during the daytime.
There is a saying in Korea along the lines of '3 cold days, 4 warm days' (삼하사온), and the Hanja character literally mean 'three cold four hot'. When I first heard this expression I was extremely sceptical about it. In what world could such a weather pattern exist? The weather I've grown up with in England is so unpredictable that I learned to ignore the weather forecasts completely and accept that you can just never know what the weather will bring on any particular day. I was so curious about this idea of three cold days being followed by four warmer days that I have been paying particular attention during the last two months. My conclusion so far? …It appears to be true. Don't be fooled – the temperature is actually always cold. It doesn't suddenly rise up to a toasty 20 degrees Celsius. However, after the temperature plummets for a few days and the fact that it will be -10 on Tuesday is the hot topic of conversation, suddenly the weather thaws out a little and we get a few milder days. Some people I know have expressed particular discontent with this pattern because they feel thrown off balance and don't know quite how warmly they should dress on any particular day. I, on the other hand, feel that this pattern offers a small relief from the biting cold every few days. It isn't necessarily easy to tell just how cold it is one day compared to the next – every day feels cold – but in my experience, if your face hurts, it's probably one of the colder days.
Koreans have a lot of different methods to beat the cold weather. The first is hot packs for your hands. These can be obtained at convenience stores and Daiso, so I'm told. These are self heating packs to hold in your hands and pockets that begin to get warm after you crack them. They won't last all day and are a one-use only item but they are pretty cosy.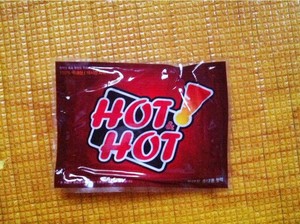 During November I began to see the seas of denim jackets disappear and, in their place, swarms of huge padded coats. Almost every Korean on the street and the subway is wearing one of these long, puffy coats during the winter season. It does mean that if you're wearing one you have to be a little more careful of knocking things off shelves in shops and have to squeeze yourself into a space on the subway (probably between two other people also wearing these coats), but you'll be warm and cosy from head to almost-toe. Top of the range Uniqlo and North Face coats start at around 160,000 Korean won and the price only goes up from there, but you can find cheaper coats for nearer 70,000 Korean won. I was lucky to find one for 50,000 on sale but I think if I was spending more than one consecutive winter in Korea I would splash out on the coats made with bird-down, not just stuffed with cotton wool. Throw on some of Uniqlo's Heat-tech thermals and a woolly jumper underneath and you'll be good to step out into the chilly winter air.
Keeping warm outside isn't the only problem though in Korea during winter. Your house needs heating, too! If you're staying in a guesthouse, goshiwon or dorm over the winter period, it is likely you won't be controlling the heating but you'll have a centrally controlled Ondol system, underfloor heating. This is heaven on earth. The only issue is that it can be a little expensive to use, so if you live in an apartment like me you may want to cut down on your use of it. The other option is to buy an electric heater. I see these used in shops and convenience stores, even. It is said that even though heaters are fairly affordable to buy, these are also expensive to run like the Ondol. However, I use mine fairly liberally, turning it on for a few hours in the day when I'm in the house but keeping it off at night, and my electricity bill last month wasn't at all shocking or scary.
The final option is the multitude of soups, stews and steaming foods that Korea has to offer. Winter has seen even more street food stalls than usual pop open, many of them offering the quintessential Korean winter treat, Hoddeok, a sweet pancake. Korean cuisine is constituted by tons of different soups, with and without noodles and rice, meat and vegetables, spice and salt. There is a soup or stew for every palette and enough choice to vary your meals throughout the winter season. If you're souped out, you can always curl up in a warm coffee shop and try one of the many limited edition winter drinks. Even juice bars offer their beverages warm… though I can't vouch for the taste.
When all is said and done, there is no arguing about the fact that winter in Korea is COLD. But that doesn't mean you have to suffer too much. Follow the methods above for keeping warm in sub-zero and you will have no problem making the most of your time in Korea during winter!
Tags:
cold
,
cold snap
,
Food
,
warm meal
,
winter
,
wrap up